June 30, 2023 is the application deadline | Fellowships for young social entrepreneurs from throughout the world from the Global Good Fund in 2024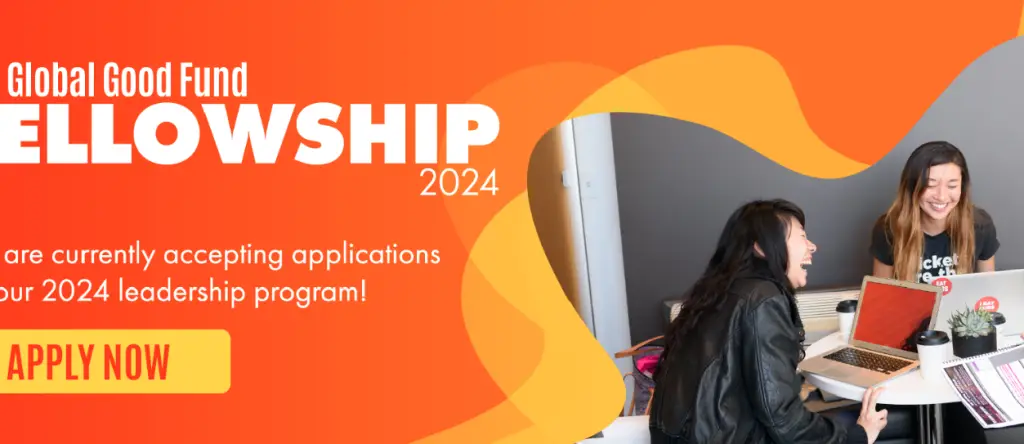 A 12-month hybrid leadership program for social entrepreneurs worldwide is called the Global Good Fund Fellowship. To build a more just and sustainable future for all, the Global Good Fund accelerates leaders who tenaciously address the most pressing social concerns. Each leader receives specialized tools, resources, training, networking opportunities, professional executive coaching, c-suite business mentorship, and $10,000 to spend solely on their leadership development.
Eligibility requirements
The company the candidate runs has been operational for at least two years.
The company has at least two full-time, salaried employees.
The candidate's position is that of the primary decision-maker, which is the position you currently hold.
C-Suite, including the CEO, COO, CTO, and CFO.
C-Suite, Co-Founder, and Founder
Director of Executive
The applicant is dedicated to managing the business full-time.
The company the candidate is running is mission-driven, which means that it also aims to improve society as well as generate a profit.
Additional Points to Consider
The business the candidate is in charge of could be for profit, nonprofit, or hybrid.
The enterprise's work scope may be domestic, multinational, or both.
The company has created a successful business plan and is thus well-positioned to grow over time (or is able to show proof that exhibits a high level of potential).
The business is tackling problems in the financial technology, environment, education, economic mobility, and health sectors. However, we will take into account candidates who don't fit into these categories in terms of their capacity to have an impact on society and create systemic change.
Candidates should not be getting official coaching or mentoring help; if they are, please include this in your application for any further fellowships you may be applying for within the same fellowship season.
Requirements
Innovative thinkers, business owners, and executives of for-profit and nonprofit social impact organizations are eligible for the Global Good Fund Fellowship.
Emerging leaders and business owners with a variety of racial, religious, economic, regional, and gender experiences are welcome to apply to this program.
They must have a full-time leadership position at their social company, which has ideally been operating for two to five years, and be committed to their own self-discovery and development.
Fellowship Information
1) 360o Leadership Evaluation
Fellows complete the GGF's unique leadership evaluation to get a comprehensive understanding of their leadership capabilities.
2) The summit (personally)
Each sprint, fellows take part in the Global Good Fund Summit. An organized 4-day leadership development experience that brings together training, networking, and camaraderie among Fellows, alumni, and important GGF ecosystem participants.
3) Virtual executive coaching
Fellows collaborate with their executive coach to develop a unique Leadership Development Plan using the 360-degree feedback obtained from the exam as a starting point.
4) Online business mentoring
Fellows are paired with a C-suite executive who acts as a mentor and provides them with intense one-on-one support to help them expand their businesses.
5) Focused Funds
A $10,000 award is given to fellows to be used specifically for their leadership development.
6) Network of peers and subject-matter experts
Over the course of a year, Fellows join a worldwide cohort of leaders who are making a good difference in the world. To better prepare Fellows and alumni for taking on complex challenges, GGF creates chances for them to interact with and learn from one another as well as a range of industry professionals.
Timeline:
Phase I: Preliminary Questionnaire from May to June
A series of quick-answer inquiries designed to gauge how closely the applicants adhere to our fellowship criteria.
Duration: approximately 30 minutes.
July–August for Phase II: Comprehensive Application
A required video clip in which we invite you to tell us your story.
2 letters of recommendation
Sample of financial viability
Short answers to questions about impact measurement, what your company does and what sets it apart from competitors, and leadership potential and coachability.
Duration: roughly one to two hours.
Sept. to Nov. – Interview
Plus 30 minutes of video interview
Candidates must invite one community member or colleague who can vouch for their efforts to their interview.
For Additional Information
Visit the Global Good Fund 2024 Fellowships' official website.