For cohort 2.2 of the Women Techsters Bootcamp 2022 for African Tech Women, applications are now being accepted. The program offers skilled instruction in the following learning programs to African Tech women: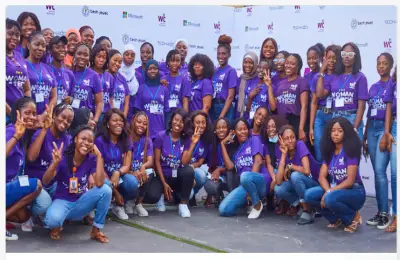 Cybersecurity
Science of Data
Software Development,
Product Management,
Artificial Intelligence (AI)
The Women Techsters Bootcamp aims to offer sufficient learning opportunities so that participants can advance their careers, learn important coding skills, or fill in knowledge gaps from cutting-edge technologies. A three-week introductory course in one of five learning tracks—Product Design, Product Management, Software Development, Data Science, or Cybersecurity—will be offered to girls and women between the ages of 16 and 40.
Join us on Telegram as well as Whatsapp for more opportunity updates
Only women from the following countries should apply: Nigeria, Ethiopia, Egypt, Democratic Republic of the Congo, South Africa, Tanzania, Kenya, Uganda, Algeria, South Sudan, Morocco, Angola, Ghana, Mozambique, and Madagascar.
The learning channel will utilize this Outlook address. P.S. For this Cohort, only applicants with active Microsoft Outlook email accounts will be taken into consideration. Sign in by clicking on Sign in at account.microsoft.com, and then click Create one. Use a phone number or get a new email address should not be clicked.
You must complete a basic digital literacy test as part of the Women Techsters Bootcamp Application, which is located in the form.
WHAT TECH4DEV IS
A non-profit social venture called Technology for Social Change and Development Initiative (Tech4Dev) was founded in 2016 with the goal of giving Africans access to opportunities and good work via the empowering of their digital talents.
Our goal is to give Africans the digital and life skills they need to flourish economically, live independently, and develop sustainably. By doing this, we hope to make a significant impact on the IT sector and the global economy, starting with Africa.
We firmly commit to using digital skills to open doors for individuals, particularly those in impoverished regions, and we believe that digital literacy is an effective tool for empowerment and development.
Click Here to Apply For Women Techsters Bootcamp for African Tech Women in 2022